Oct 3, 2016: AFS tours TEI during conference on Additive Manufacturing
On October 3rd 2016 TEI welcomed more than 40 AFS members to our Livonia facility as part of a 4-day AFS conference on Additive Manufacturing.
The visitors were led on personalized tours around our foundry, machine shop and engineering department. President Oliver Johnson and "Casting Whisperer" Ted Kahaian also gave talks at the conference at the Sheraton Detorit Novi. The titles of the talks we as follows: "Castings Without Tooling" (T. Kahaian) and "Using AM for Complex Castings" (O. Johnson).
Sep 15, 2015: TEI Presents at Voxeljet 3d Printing Seminar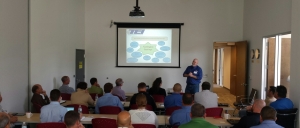 Ted Kahaian was the guest speaker at the fall 2015 Voxeljet Seminar on 3d printing which was held at Voxeljet's Canton, MI headquarters. Ted gave an overview of the benefits of utilizing 3d printing of sand molds to an audience which covered a wide range of industries and applications. He talked about TEI's long history of more than 10 years of utilizing 3d printed sand molds and cores and highlighted the key technologies needed to make its implementation successful. There was a lot of interest in his presentation and in the subsequent question and answer session.
AFS Casting of the Year Competition
Honorable Mention for Crankcase Assembly April 2017

AFS Best-in-Class Award for Thermal Command Center Sand Casting April 2016

Honorable Mention at AFS Casting of the Year Competition for EcoMotors Accessories Plate April 2015

AFS Best-in-Class Award for Honda Water Passage Sand Casting April 2014