Come one, come all!
TEI is exhibiting at Cobo Hall for the SAE World Congress Experience trade show this week. We hope to see familiar faces and to make great new contacts.
Exhibit hours are as follows:
Tuesday April 4th: 9am-6pm
Wednesday April 5th: 9am-6pm
Thursday April 6th: 9am-4pm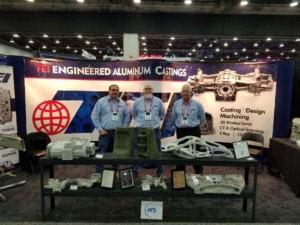 Pictured left to right: Chris Adamski, GD&T Expert & CAM programmer; Ted "Casting Whisperer" Kahain, Designer; and Robert Showalter, Sales & Marketing.